From https://i.ytimg.com/vi/eU6Nv7fH3UQ/
movieposter.jpg

Directors: Various
Screenplays: Various
Cast: Various
Synopsis
: As with
The ABCs of Death (2012)
, twenty six directors from around the world are assigned a letter of the alphabet, asked to conceive a short based on a death surrounding this letter, with complete artistic freedom as a result.
[Note: Due to the length of this review, it has been split into two posts for ease for reading. The link to the second part will be at the bottom of this one.]
After the original
ABCs of Death
, trumpeted as a major event but also having a lot of divided opinion on the anthology in terms of quality, a sequel came not so long after. Issues from the original were ironed out by the producers. One of the most amusing was that, after the number of shorts that dealt with the subject previously, toilets and bodily functions were made verboten despite creative freedom still being encouraged in any other subject. The other was that, whilst
Sion Sono
was promoted as working on this sequel but never appears within it, and there are still a few recognisable names within what we got, most of the known and very popular cult and genre directors had been included in the first. This time there's a sense of a very different tone to the sequel because of the obscurer names involved and the general sense of going its own direction from the first film.
A is for Anti-climax
Many have viewed the sequel as actually a better film, but for me it's entirely subjective. The first is a wild, if utterly messy, rollercoaster of the ridiculous to the sublime. I completely understand people who hate most of it, but having watched the first multiple times by now, even the "bad" segments have gained charm. The sequel, in one flaw to its name, doesn't have three opening segments as strong as A, B and C last time, when three Latin American directors helmed them in a cluster and all of them had energy to them. Yes, Cheap Thrills (2013) director E. L. Katz uses A to show the illusion of air ventilators being remotely usable for an assassination attempt, but it's not as bombastic a start. Likewise C from Julian Gilbey is a pretty generic mob rule story with predictable results. Out of them three, B is the most rewarding if only because of its by The Mighty Boosh alumni Julian Barratt, emphasising how British he is by directing a tale of a nature programme host who is an arsehole (played by himself ) and an irradiated badger.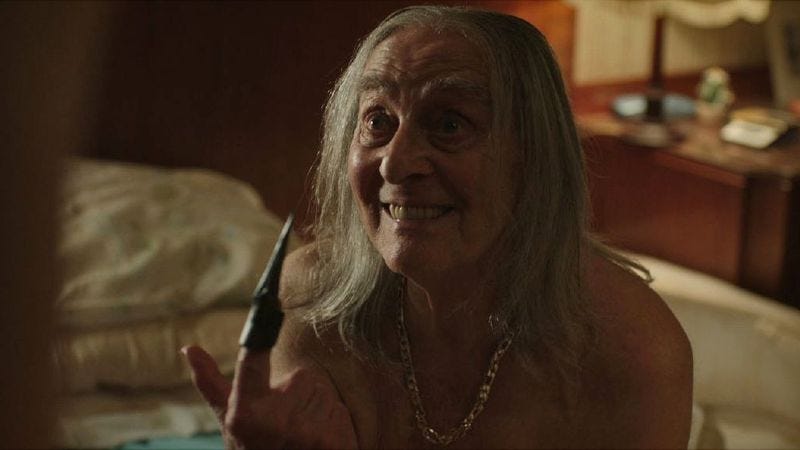 From https://i.kinja-img.com/gawker-media/image/upload/s--ergW2Poc--/c_scale,f_auto,fl_progressive,q_80,w_800/fyrui5zdhkarlbpymmzg.jpg

E is for English
There's a noticeable tonal difference between the anthologies, many more of the segments serious with fewer comedic ones like Barrett's. Noticeably as well the intentional nature of the directors helming the films is also more pronounced this time, so much so that for me most of the English language entries are actually sidelined by the international ones, usually of higher quality or greater interest. You have solid entries, don't get me wrong. Larry Fessenden's N is a tragic tale of an ordinary accident, slowly built to, on Halloween day. V by Jerome Sable is inventive use of webcam, emphasis on modern tech being implemented to tale new stories, where a boyfriend's adventure in a foreign land proves horrifying to witness for his off-screen girlfriend. Vincenzo Natali's U is a potential film within itself on a world where that which is not "beautiful" is gruesomely dealt with. Director of Room 237 (2012), Rodney Ascher, manages to find a way to do Q well in spite of the fact that I think Adam Wingard and Simon Barrett's take on one of the most awkward letters in the alphabet is superior completely.
It would be insane not to champion these sorts, especially not one of the best segments, Juan Martinez Morenoby Juan Martinez Moreno, which uses split screen to create a disturbing tale full of twists. Juan Martinez Moreno, by Astron-6, is one of the few humorous entries which is yet one of the most perverse, imaging a fantasy land (effectively He-Man and the Masters of the Universe) as the hell it'd probably be, two young boys regretting being transported to their toy set's world if anything just for Fantasy Man, whose inherently creepy name is enough to suggest how black the humour is.
It also means, sadly, you have Jen and Sylvia Soska's T, ironically a piece of interconnection as with fellow Canadians Astron-5 they appear in each others segments. It's not a nice feeling when you want to celebrate two young female filmmakers who are as idiosyncratic as they, two twins who love horror and genre filmmaking, but found Dead Hooker in a Trunk (2009) bad and couldn't understand the critical praise for American Mary (2012). Their tale of a woman (Tristan Risk) taking revenge on evil, misogynistic porn filmmakers is as heavy handed and slight as the premise sounds. Whilst the highs of the prequel anthology were great, I will admit that there's a higher percentage of solid entries within The ABCs of Death 2, which makes the fact that the Soska Sisters' segment one of the few bad ones really sting.
C is for Competition
Following on from the prequel, where one of the letters was assigned to a competition winner, this time for M, Robert Boocheck's tale of slow motion carnage is a very well made entry, as well made as most of the professional ones within the same anthology. (And yes, the punch line works perfectly even on multiple viewings). To the series' credit neither of the competition winners were bad in either film, and were among the most praised even for those who found the anthologies bad. Whether ABCs of Death 2.5 (2016), collecting the other M entries together as its own anthology film, would work is an entirely different matter, but I admire the interest in trying to bring up new talent in cult cinema through it.
D is for Diversity
One of the other curiosities, prominent here, is how there are explicitly filmmakers who have never made horror films who were chosen, a few I have brought up already. More so, as a snapshot of its time just from the names chosen, that you see future voices cross paths with veterans. The future director of The Greasy Strangler (2016) Jim Hosking makes a peculiar tale of a granddad who hates his grandson for G. It does feel awkward and perplexing to see, but was more than likely a dry run for what he would be doing later. For a veteran, despite not being a genre filmmaker in the general sense of the term, you have the unexpected inclusion of legendary American animator Bill Plympton with H. His work, especially his features, are not easy to find, but as a small child I vividly remember some of his advertising work alongside an interactive piece of PC software, both of which involved two older men taking cartoon physics to an extreme by disintegrating each other's bodies in various ridiculous ways. He is a director who has unfairly been neglected in the present day in spite of his work's so completely unique and once very popular, so his inclusion was a pleasant surprise. That famous duo are effectively recreated this time only in a literal gender war between a man and a woman, a maligned figure in Plympton allowed to wave and be thankfully recognised in one of only two animated features, the inclusion of which itself alongside live action another of the series' virtues.
For Part 2 of
the ABCs of Death 2
review, follow the link
HERE
.
From https://m.media-amazon.com/images/M/MV5BNTIwMTk3ODQwM15BMl5
BanBnXkFtZTgwODY5ODA2MjE@.
_V1_CR0,60,640,360_AL_UX477_CR0,0,477,268_AL_.jpg