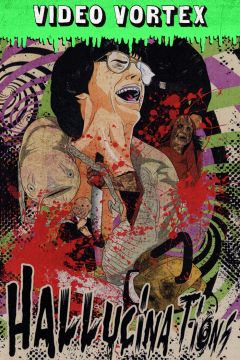 Directors: John Polonia, Mark Polonia, Todd Michael Smith
Screenplay: John Polonia, Mark Polonia, Todd Michael Smith
Cast: John Polonia, Mark Polonia, Todd Michael Smith
[Some Minor Spoilers]
If anything, this feels like an appropriate way to talk about the
Polonia Brothers
, twin micro-budget filmmakers
John
and
Mark Polonia
who made curiosities like this or
Splatter Farm (1987)
. They kept working through the nineties and millennium, and whilst
John Polonia
passed in 2008, his brother
Mark
is making films to this day. Around the time of this review, admittedly one of
Mark Polonia's
solitary films I watched was
Bride of the Werewolf (2019)
, which to be brutally honest wasn't interesting, sluggish and without a spark to it.
Thankfully,
Hallucinations
is a better glimpse at their cult reputation, even if you didn't take into consideration where this film is made by three people who are the only cast, the
Polonia
brothers and co-director
Todd Michael Smith
, the
Polonia
brothers just between seventeen or eighteen, and
Todd Michael Smith
only a year older.
As Hallucinations shows, a lack of resources is not a detriment, a joy to be had in this film from Middle America where the cherub faced and pencil moustached leads are barely into being adults onscreen, nonetheless going for broke with the energy behind the camera. The aforementioned three, baring a cat, take turns to play strange hallucinations that start to plague the (same) three boys left on their own their mother is absent at work, be it a hooded monk to a loon using a blowtorch. About these three sad people, one of the Polonia playing the sensitive "younger" brother most affected by their mother's absence, the film is surprisingly melancholic alongside its strange sense of violence and weirdness that adds a great deal.
It is a slow start, segments setting up their ordinary world including establishing the snow covered rural environment, or the amusement of a Polonia using a sex phone line with one of the directors clearly providing the women's voice on the other end. It does escalate within the surviving VHS transfer's haze, as Hallucinations does get increasingly strange. Helping the film is that, rather than attempting to be a complex narrative with limited resources, its three friends creating a string of gory and odd sequences tentatively strung together a surprising consistency throughout. There a surprising maturity among the silliness too, in that for all you will witness, it's a film as much about absence and loss that influences what takes place. Even when the first major event transpires, the abrupt death of the family cat, it's played less with gusto but an actual tragedy even if a doll will urinate on her photograph in the later segments.
And, to this young trio's credit, whilst the moments of splatter are surprisingly accomplished, it gets increasingly darker in its post Nightmare on Elm Street logic. Let's not ignore the practical effects - basic gore and fake dismemberment, but someone also created a false torso for one of the Polonia brothers to wear, wisely shooting the prop by itself in close up when one of them have a blowtorch burn through it in a torture sequence in a basement. When the hallucinations get weird though is where things get interesting and in inspired ways, probably exemplified by one of the Polonias on a toilet defecates a knife from him, a legitimately surreal and freakish idea which is both perversely funny but would actually cause an audience to squirm.
A lot of the hallucinations are simply put together using stop motion techniques for some, editing techniques or one of the trio in a costumes for others, which are b-movie horror images that in some cases have a real primal fear to them on this lo-fi video, like a crazed psycho in one chasing a Polonia through a field in snow bound daylight. Even the weirdest ones have a semblance of real dream logic, such as a doll coming to life and pissing on people, mocking someone for their sadness, a playfulness to psychotronic cinema found in Hallucinations but also vivid at its best as here. That the film is shot in such a fragile medium as videotape helps greatly, late eighties Middle America here not took in with trends and having near timelessness as a result, an isolated house in the snow with all the VHS noise and ghostly effects affecting the material profusely.
The result is a good way to "get" this type of cinema. Barring an implied encounter between a cat and a chainsaw, and the whole thing with a knife, Hallucinations could be easier to sell to people if they know how it feels like an accomplishment in context, considering the resources at hand, literally three people and whatever they could access or provide. The fact it's all under an hour means it doesn't test a person's patience either. Barring in mind the participants' ages and the pace, that there's nothing particularly here that becomes sluggish or falls into an aimless attempt at exposition is increasingly better when it concentrates on other material. The Polonia brothers as mentioned continued, but Hallucinations for me was a breath of fresh air which explained their appeal considerably. Definitely, absolutely, a rich vein of weirdness to appreciate.
Abstract Spectrum: Grotesque/Hazy/Psychotronic/Surreal/Weird
Abstract Rating (

High

/

Medium

/

Low

/None):

Medium