Director: Pipilotti Rist
Screenplay: Pipilotti Rist and Chris Niemeyer
Cast: Ewelina Guzik as Pepperminta, Sven Pippig as Werwen, Sabine Timoteo as Edna, Elisabeth Orth as Leopoldine, Oliver Akwe as Kwame
Synopsis: Pepperminta (Ewelina Guzik) is a free spirit who has been taught to live life to the fullest by her grandmother, now a mechanical eye in a container, who also taught her to power of colour. With these in mind she starts to acquire allies in her goal to bring joy to the world.
Pepperminta, if one wants of a more known comparison, is
Amelie (2001)
. However this is directed and
written
by instillation artist
Pipilotti Rist
, so rather than a man depicting a female free spirit, you have a woman's perspective which changes a lot of the attitude.
Pepperminta
is a sweet, soft-hearted film in which one character desires to bring the world to a better place, a mischief which involves her gaining the assistance of a man kept inside by his mother due to perceived health issues, a woman who purposely dresses like a man and binds her breasts out of discomfort of herself, and an older woman who fears her encroaching death. Pepperminta acts before and after acquiring these allies is harmless, posting mail to hijacking a fancy restaurant, where such curious sights such as green spaghetti and a whole roast pig surrounded by Lego are created by her group.
Complimenting this is Rist's style, a perfect blending of old filmmaking techniques for the YouTube general such as stop motion, used for such memorable moments as police officers being assaulted by a sentient flock of fruit. It's a playful, fun style which thankfully never becomes coy and irritating. A huge factor is that Rist's reputation for colour in her work is on display, playing up the entire spectrum explicitly in the plot. Even in naturalist digital, the film is full of vibrant colour which plays onscreen.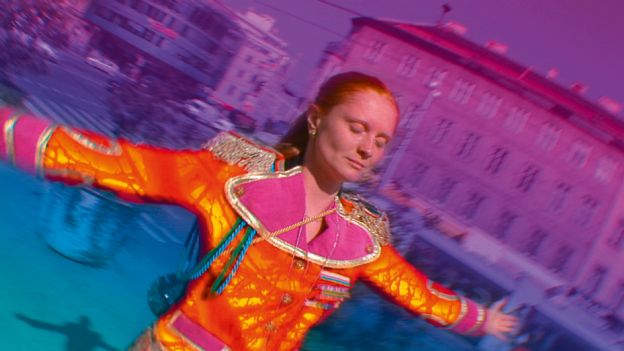 From https://hirshhorn.si.edu/wp-content/uploads/2012/03/image_1_483.jpg

Pepperminta however is not a family friendly film. Amongst dealing with subjects like death, it also explicitly tackles content breaking perceived taboos. Menstrual blood, which Pepperminta collects in a goblet, is a subject for example rarely tackled let alone with characters eventually drinking it. That and nudity where stereotypes of bodily perfection are through out of the way. This is however where Pepperminta slips, a sense of seriousness within what should be fun and light, but also shows the ideas are juvenile rather than helping the viewer overcome their own fears. If it is going to tackle the taboos of menstrual blood, it never feels fully developed Pepperminta herself, whilst admirably played by Ewelina Guzik, could come off as utterly annoying, in danger of becoming the free spirit whose behaviour is actually counterproductive in helping people, risky and in cases like randomly licking random objects behaving not in ways to show individuality but wasting energy. There's also heavy handed moments which feel out of place even amongst the serious material. The police that try to catch Pepperminta evoke such antagonist figures in cartoons, but adding religious priests amongst the police and snooty people (likely evoking Rist's atheism from a protestant background) feels counterproductive to a film whose message should be above that, which should be thinking out of the box rather than going for obvious things such a character like Pepperminta would find absurd.
The bigger issue is that, it's not Amelie that's the biggest comparison, but Věra Chytilová's Daisies (1966) that comes to mind in comparison to Pepperminta. Another female filmmaker, but with two female characters named Marie I (Jitka Cerhová) and Marie II (Ivana Karbanová). In terms of films, Daisies is one of the best ever made in the medium, and in context of having been made in the oppressive communist regime, makes Pepperminta look like a trivial First World Problem movie. It also feels like it has no teeth next to Daisies. Daisies is a fun film, but it's also aesthetically and technically on a higher level, and it's so much more liberating and transgressive, the kind where the Maries would mock Pepperminta's pretentions for improving the world. Whilst the message sounds nihilistic, Daisies was made in the context of a social environment such films deemed unhealthy and destructive for human beings.
It's a sweet film but it, unlike Pepperminta, isn't "cute" but a manifesto that was against a real target, whilst Pepperminta is targeting stereotypes as cheap targets with the same tone of a self health book. Pepperminta and her assistants take over a dinner hall; Marie I and Marie II in Daisies find that destroying it is far more constructive in being destructive. Pepperminta doesn't become cloying in emotion but it's still pretty childish, the latter having greater power and making Rist's sole feature length work minor.
Abstract Spectrum: Experimental/Expressionist/Whimsical
Abstract Rating (

High

/

Medium

/

Low

/None): None
Personal Opinion:
It was fun whilst it lasted, but Pepperminta does not stand up beyond looking really nice and colourful.
From http://www.pepperminta.ch/wp-content
/themes/pepperminta/images/backgrounds/24.jpg